BUILD AND TONE BODY MUSCLES WITH OUR PUSH UP BOARD
Do you want to have a chiseled out upper body? Then the  push up board is your sure bet. Beneficial for building upper body strength, it works the triceps, pectoral muscles, and shoulders. When the different color codes are used, it can also strengthen the lower back and core by engaging (pulling in) the abdominal muscles. Push up board workout routine every day can be effective if you're looking for a consistent exercise routine to follow. You will likely notice gains in upper body strength if you do push ups regularly. For the best results, continue to add variety to the types of push ups you do.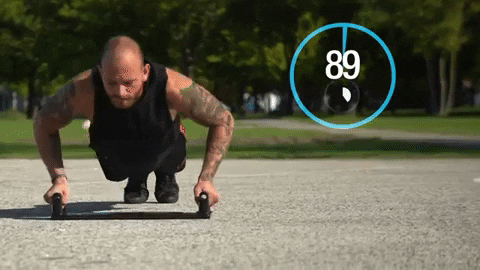 Building muscles up and down your body has never been easier, burning calories, losing or maintaining a particular weight category all with a simple to use Push Up Board 9 system workout. Just plug and press in multiple push up positions and angles efficiently like no other product can. This unisex product got you covered.
Why We Think This Push Up Board is A Must Have
Color Coded Workout: The power press push up board has different color coded combination which targets a unique band of muscles for enhancement.
Push Up Journey:

 

Using any of these push up boards takes you on a journey across diverse routines you never thought possible. 
Non-Slip Grip:

 

You stay secured to the handle every time you push up using this fitness equipment.
30 minutes:

 

All you need is 30 minutes from home every day to workout with this fitness equipment.
Imagine being able to do proper push ups and hitting specific muscles with ease. The easy-to-follow multiple color push up position targets specific muscles and promotes proper form which is essential for strength training. Time to stop making excuses and start taking action. Order any of our Push Up Boards and you are one step closer to your desired fitness goal.
 The Push Up Board, this innovative color coded training system helps strengthen and sculpt the entire upper body (chest, shoulders, back and arms) while engaging your entire core at the same time. So your muscles are always challenged with the numerous variants of push ups possible on our board, making sure that your fitness progress never plateaus. Why wait? Click Add to Cart now to get yours.
Results may vary and we want you to be 100% satisfied. That's why we offer a risk free money back Guarantee period of 30 days from when your order is delivered. If you're not happy, send it back for a full refund. It's simple as that! We value customer satisfaction above anything else. 
Yes, it is worth buying this. If you're looking for cable attachments similar to what the commercial gyms provide, this is the product for you. Not only is the attachment really great for back workouts but you can also use it for other muscle group like shoulders, biceps, triceps, and etc. It is very simple to put together

Wolfgang H.
I wasn't sure what to expect when I got these because I had never used resistance bands before, but I bought them anyways because they were A LOT CHEAPER THAN WEIGHTS. They come with a very helpful poster that shows how to do different exercises with the bands. Additionally, this product comes with 150 POUNDS OF RESISTANCE. If you were to buy 150 pounds of weights it would most likely cost you around $300; however this only costs $35 and allows you to hit all the different muscles during your workout. My favorite exercise to do with the bands are chest flys, but these resistance bands are so versatile that you can do virtually any exercise with them. BUY THIS INSTEAD OF WEIGHTS

Brian L.
The most aggravating problem I have had with digital scales in the past has been inconsistent readings. I'd step on the scale it would show a weight. Step off and step back on, it showed a different weight. Step off and back on again, it showed a third weight. When you're trying to lose weight, a scale like that drives you crazy! I am happy to report, that with this Digital Body Weight Scale it was not like that at all. Straight out of the box, the first thing I did was set my 8 lb hand weight on the platform and the scale was only 1 ounce off. (Or was the weight itself 1 ounce off?) Either way, the best part is, no matter how many times I took the weight off and put it back on, the display was 1 ounce off. And I have found it to be consistent for me, too. I can step on, read my weight, step off and back on again, it shows the same weight. I highly recommend this scale to anyone, especially if you are dieting!

Danika D.
LOVE LOVE LOVE this mat! The cork is so soft and gives some much needed cushion to my knees during my practice. I also love how big it is, giving me so much more room to practice on.

Elbert K.