Pull Rope Resistance Band
GET BIGGER BICEPS AND TRICEPS
Do you want to get bigger? More lean? Do you want to accelerate your weight loss program? Then the 120cm Pull Rope is your sure bet. A research carried out among 100 fitness enthusiasts in the U.S showed that exercise with elastic bands were more effective than weight work outs. As surprising as this discovery is, there are reasons for this. When you think about resistance band training, the actual style of exercise is completely different than if you were using something like a dumbbell.

Instead of simply lifting a weight, your muscles are under constant tension. This means the actual quality of each rep is significantly improved. And with your muscles working harder, you've got better contraction which is the key to getting stronger.  Also, it's always good to find new ways to work out and provide your body with alternative stimuli to help it grow and adapt. 
Why The Pull Rope is A Must Have for your Home Gym
High Quality Latex Resistance Tube: The fitness tubes are made of natural latex that is stackable, non-irritant and odor free, thereby being an excellent choice for your health, fitness and performance. With a single length of 120cm.
Door Anchor: 3-inch resistance band door anchor utilizes dense but soft foam, it can secure your pull rope at all points, even if there is a sizable space at the top and bottom of the door. This feature greatly increases the number of exercises that you can perform.
Cushioned Foam Handles: The handles are made of non-slip eco-friendly materials. Comfortable handles that will definitely make you enjoy pull rope exercises.
Multi-functions: Perfect for physical therapy, exercise, weight loss, pilates, muscle toning, muscle strengthening, stretching, rehabilitation, and general health and fitness. This pull rope resistance bands are great for home use, gym use, offices, and are ideal for travel.
A ubiquitous product:

 

Workout anytime and anywhere. Whether outdoors or indoors this fitness tool is guaranteed to add more resistance to your regimen.
Insurance and warranty: All our packages in transit are insured. If you're not satisfied with our product, please let us know. We offer a 30-day warranty, in which damaged pull ropes are replaced and full refunds are made to customers who feel we have fallen short of our promise to deliver quality fitness products.
Resistance Chart
| | | |
| --- | --- | --- |
| Black | 30lb | X-heavy |
| Red | 15lb | Medium |
| Blue | 20lb | Heavy |
| Green | 25lb | Light |
| Yellow | 10lb | X-light |
| Purple | 20lb | Medium |
| Door anchor | 0 | |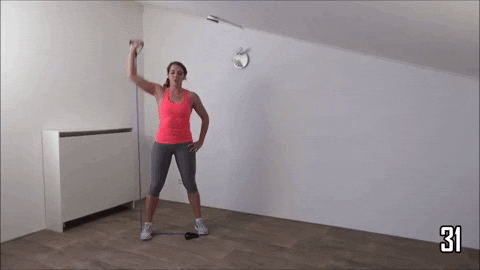 There are numerous advantages to lifting heavy with the varying levels of resistance the pull rope offers. It is a more preferred method of training compared to working with dumbbells, simply because you have a guaranteed level of form and consistency. The more 'free' you get with your weights, the more effort you need to put in towards controlling your movements to make sure you're doing them right. However, although they're more difficult, doing more free-weight exercise with our pull rope resistance bands is essentially going to help you get stronger. And it will also help you improve your functional fitness levels as well.  
Using the pull rope resistance bands in your work outs can feel a little shaky at first and getting the feel for them simply takes time and regular use. Also, making sure you control both the tension and the release takes a good amount of concentration. You have to make sure you are maintaining the tension on the band – rather than letting them snap back into place.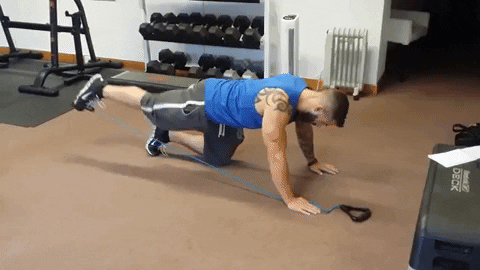 The pull rope provides that flexibility in work out that can't be found in traditional gym fixed stationary equipment, while they might have their own merits, using this resistance band guarantees that you target and hit specific muscle bands compared to the former. Being able to work the full muscle from extension to contraction will give you the best in results – and that's what you get with band work outs.
Start working out for more gains with less stress while at home. Its never been this easy to get and stay fit. With the Pull Rope Resistance Bands this dream becomes a reality.
With its cushioned foam handles, this resistance band is comfortable to use with anti-slip easy to absorb sweat feature.  This triceps pull rope offers the versatility and quality that you need for your best workout at home. You can use this resistance bands to increase cardio, build muscle, lose weight and enhance flexibility.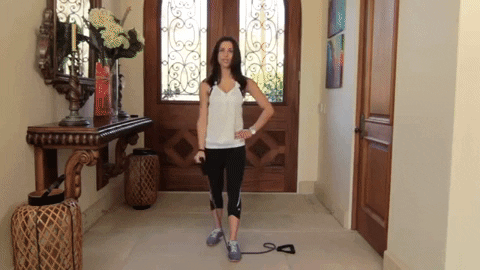 The Pull Rope is a unisex fitness gadget, thus men and women can use it for a range of exercises such as toning the arms, legs, thighs, and butt. Seniors and those in physical therapy can also use these resistance bands to build stronger bones and rehabilitate injured muscles. 
This fitness equipment is compact and portable, so you can now bring your fitness workout home to your family. It is ideal for a wide variety of fitness-related uses, including; pilates, muscle toning, muscle strengthening, stretching, rehabilitation and general health and fitness.
Why is the Pull Rope the Best fit for You?
With the pull rope you activate your whole body muscles during workout.

It improves your grip.

It is a fantastic way to incorporate HIIT into your routine.

Option of choosing from multiple range of workout routine.

Helps improve imbalance over time.

Get stronger as you increase the resistance level.
Technical specification

WEIGHT
5.9 ounces
MATERIAL COMPOSITION
Latex
LENGTH
120cm
COLOR
Green, Blue, Red and Black
IN PACK COMPONENTS
Pull rope, Cushioned Foam Handles and/or Door anchor
Start toning your muscles from home today. Just click Add To Cart to get yours now!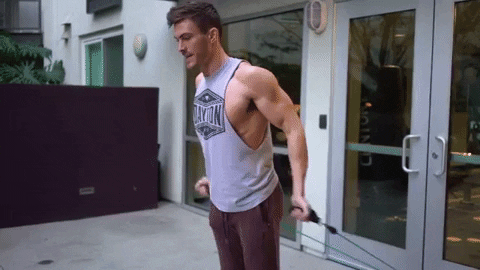 Yes, it is worth buying this. If you're looking for cable attachments similar to what the commercial gyms provide, this is the product for you. Not only is the attachment really great for back workouts but you can also use it for other muscle group like shoulders, biceps, triceps, and etc. It is very simple to put together

Wolfgang H.
I wasn't sure what to expect when I got these because I had never used resistance bands before, but I bought them anyways because they were A LOT CHEAPER THAN WEIGHTS. They come with a very helpful poster that shows how to do different exercises with the bands. Additionally, this product comes with 150 POUNDS OF RESISTANCE. If you were to buy 150 pounds of weights it would most likely cost you around $300; however this only costs $35 and allows you to hit all the different muscles during your workout. My favorite exercise to do with the bands are chest flys, but these resistance bands are so versatile that you can do virtually any exercise with them. BUY THIS INSTEAD OF WEIGHTS

Brian L.
The most aggravating problem I have had with digital scales in the past has been inconsistent readings. I'd step on the scale it would show a weight. Step off and step back on, it showed a different weight. Step off and back on again, it showed a third weight. When you're trying to lose weight, a scale like that drives you crazy! I am happy to report, that with this Digital Body Weight Scale it was not like that at all. Straight out of the box, the first thing I did was set my 8 lb hand weight on the platform and the scale was only 1 ounce off. (Or was the weight itself 1 ounce off?) Either way, the best part is, no matter how many times I took the weight off and put it back on, the display was 1 ounce off. And I have found it to be consistent for me, too. I can step on, read my weight, step off and back on again, it shows the same weight. I highly recommend this scale to anyone, especially if you are dieting!

Danika D.
LOVE LOVE LOVE this mat! The cork is so soft and gives some much needed cushion to my knees during my practice. I also love how big it is, giving me so much more room to practice on.

Elbert K.