SAY GOOD BYE TO LOVE HANDLES. ELIMINATE DEEP LINING ABDOMINAL FATS
Do you seek a way to work on your form? Are you tired of love handles? Finally a way to consistently burn deep set abdominal muscles, eliminate love handles, enhance your V-shape and define your slim waist.  This all in one Home Pull Up Bar, which is great for your home workout requirements. It is easy to install.  It's a chrome tube that telescopes and extends on either end to fit a doorway up to 3 feet wide. There are rubber pads on either end that help create tension to resist the load of the user.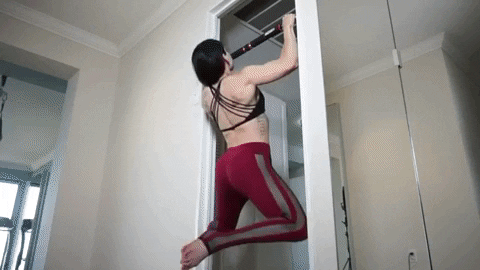 The wall mounted pull up bar can be installed anywhere in the home. Its comfortable, non-slip foam grips save your hands while minimizing hand fatigue or pain, and help you focus on the pull up, not the hanging on. If you feel like changing up your workout, you can move the bar down to the lower part of the doorway to help secure your legs for sit ups, or use the free standing pull up bar for stable, controlled push ups.
When you're done working out, you simply twist the ends of the diy pull up bar, bring it down and store the bar anywhere. It fits in any closet or even just looks great in a corner of the room. And if you don't mind leaving it in the doorway, then you'll have an easy way to get a bit of exercise by doing a few pull ups every time you pass through the door of your home.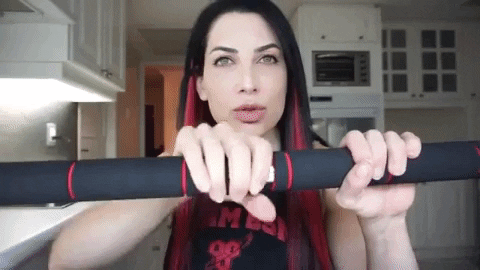 Why This Home Pull Up Bar is A Must Have
BUILD UPPER BODY STRENGTH

 

- This home pull up bar for doorway use will tone and strengthen your back, arms, shoulders and abs muscles for the perfect upper body workout for men and women.
SAFE and SECURE

 

- Made from heavy-duty chrome steel the wall mounted pull up bar and door mounts provide great support and safety.

 

Note:

 

Always install and use the supplied screw-in door brackets (comes with 2 sets of heavy-duty and 1 set of medium-duty door mounts).
VERSATILE USES

 

- Get fit and strong by using the free standing pull up bar for many exercises including pull-ups, chin-ups, hanging leg raises, push-ups, dips and crunches. It's truly a multi functional piece of at home workout equipment.
COMFORTABLE HAND-GRIPS

 

- Non-slip extra-long foam grips for extra comfort to minimize hand fatigue or pain.
USE IN DIFFERENT LOCATIONS

 

- Included in the package is a multiple screw-in door mount kit for flexibility in movement to different places or heights. Adjusts to fit standard door ways between 26 and 39 inches. It's perfect for your home, garage, gym or the office.
The Home Pull Up Bar technically can be used without support brackets, but it's highly advised you use them for safety. You just place the bracket in a doorway that lent itself best to using the pull up bar regularly. Why wait? Begin your journey to eliminating love handles today by clicking Add to Cart now.
Yes, it is worth buying this. If you're looking for cable attachments similar to what the commercial gyms provide, this is the product for you. Not only is the attachment really great for back workouts but you can also use it for other muscle group like shoulders, biceps, triceps, and etc. It is very simple to put together

Wolfgang H.
I wasn't sure what to expect when I got these because I had never used resistance bands before, but I bought them anyways because they were A LOT CHEAPER THAN WEIGHTS. They come with a very helpful poster that shows how to do different exercises with the bands. Additionally, this product comes with 150 POUNDS OF RESISTANCE. If you were to buy 150 pounds of weights it would most likely cost you around $300; however this only costs $35 and allows you to hit all the different muscles during your workout. My favorite exercise to do with the bands are chest flys, but these resistance bands are so versatile that you can do virtually any exercise with them. BUY THIS INSTEAD OF WEIGHTS

Brian L.
The most aggravating problem I have had with digital scales in the past has been inconsistent readings. I'd step on the scale it would show a weight. Step off and step back on, it showed a different weight. Step off and back on again, it showed a third weight. When you're trying to lose weight, a scale like that drives you crazy! I am happy to report, that with this Digital Body Weight Scale it was not like that at all. Straight out of the box, the first thing I did was set my 8 lb hand weight on the platform and the scale was only 1 ounce off. (Or was the weight itself 1 ounce off?) Either way, the best part is, no matter how many times I took the weight off and put it back on, the display was 1 ounce off. And I have found it to be consistent for me, too. I can step on, read my weight, step off and back on again, it shows the same weight. I highly recommend this scale to anyone, especially if you are dieting!

Danika D.
LOVE LOVE LOVE this mat! The cork is so soft and gives some much needed cushion to my knees during my practice. I also love how big it is, giving me so much more room to practice on.

Elbert K.