HAVE YOUR BODY WEIGHT ANALYZED AND SENT TO YOUR PHONE
Are you tired of having to check your weight everyday? Wouldn't you rather check your weight once and have it relayed to you on your mobile phone while you are at home watching a movie? Introducing the body fat scale! The object here is convenience, consider how the scale pairs with your device, which metrics it measures, price, and syncing abilities when choosing your new fitness tool. When you add these all together, it brings you to this point, The Body fat analyzer.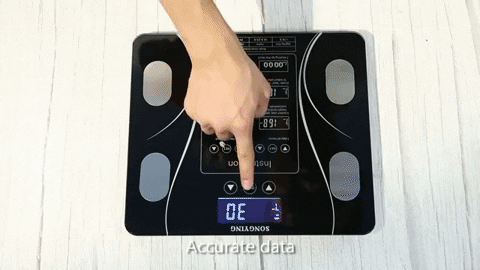 Whether you're starting a new fitness plan, resolving to get healthy while staying home, or just trying to watch your weight, it's time to ditch your old analog scale and upgrade to something smart. Accurate body fat scale.

Typical scales only measure your weight — which is fine if that's all you're looking for. Our body fat scale provides you with extra data that can help you tailor your weight-loss plan. These scales have apps or online services to track various metrics and store the information for you. Most of the apps are compatible with other fitness apps such as Fitbit, Apple Health, and Google Fit, so you can sync your data where you want it.
Why Our Body Fat Scale is A Must Have
Smart app syncs

 

with fitness apps. Easy setup app syncs with Samsung Health, Fitbit, Apple Health, and Google Fit, offers App for Apple Watch.
13 essential measurements:

 

The body fat scale shows body weight, data including weight, BMI, body fat percentage stores to app. You can weigh yourself anytime without your phone. The data will sync to the app once it is connected again.
User-friendly app.

 

Download the accurate body fat scale app at App store or google play. The App works with Bluetooth 4.0 And above.
High Quality Product.

 

Auto calibration, high precision sensors measure in increments of 0.2 lb, 0.05 kg with 396lbs, 180kg capacity. 4 high sensitive electrodes, 3 x AAA batteries included. CE,FCC,ROHS Certificated.
Monitor your progress.

 

Our body fat analyzer connects with the apps to help you set goals, save historical data and track your daily, weekly, and monthly progress.
Stay motivated while home this period and stick to your goal of shedding some weight or even maintaining your current weight with our best body fat scale. When you step on the scale, your information is recorded and sent to the accompanying app. Most of these apps track your progress in charts and allow you to set and review goals. Being able to see your goals and see where you are in terms of meeting them can motivate you in ways that simply writing down your weight can't.
This is the right scale for you, because it has all the metrics already calibrated to suit home use to track metrics, like weight, body fat, lean mass, and body mass index (BMI) as well as 13 other different body composition metric some of these measurements might not be necessary for you to track. Either way, we're here to help you make a choice on which weight scale is worth your time. 
With our body fat scale you have weight loss analysis that's synced with your phone. Why wait? Get yours now by clicking Add to Cart.
Yes, it is worth buying this. If you're looking for cable attachments similar to what the commercial gyms provide, this is the product for you. Not only is the attachment really great for back workouts but you can also use it for other muscle group like shoulders, biceps, triceps, and etc. It is very simple to put together

Wolfgang H.
I wasn't sure what to expect when I got these because I had never used resistance bands before, but I bought them anyways because they were A LOT CHEAPER THAN WEIGHTS. They come with a very helpful poster that shows how to do different exercises with the bands. Additionally, this product comes with 150 POUNDS OF RESISTANCE. If you were to buy 150 pounds of weights it would most likely cost you around $300; however this only costs $35 and allows you to hit all the different muscles during your workout. My favorite exercise to do with the bands are chest flys, but these resistance bands are so versatile that you can do virtually any exercise with them. BUY THIS INSTEAD OF WEIGHTS

Brian L.
The most aggravating problem I have had with digital scales in the past has been inconsistent readings. I'd step on the scale it would show a weight. Step off and step back on, it showed a different weight. Step off and back on again, it showed a third weight. When you're trying to lose weight, a scale like that drives you crazy! I am happy to report, that with this Digital Body Weight Scale it was not like that at all. Straight out of the box, the first thing I did was set my 8 lb hand weight on the platform and the scale was only 1 ounce off. (Or was the weight itself 1 ounce off?) Either way, the best part is, no matter how many times I took the weight off and put it back on, the display was 1 ounce off. And I have found it to be consistent for me, too. I can step on, read my weight, step off and back on again, it shows the same weight. I highly recommend this scale to anyone, especially if you are dieting!

Danika D.
LOVE LOVE LOVE this mat! The cork is so soft and gives some much needed cushion to my knees during my practice. I also love how big it is, giving me so much more room to practice on.

Elbert K.